The past couple of days have been very weird. The manfriend worked over the weekend, so I stayed in Mentor. (weird) The kids were at their dads, which isn't unusual for the weekend, but now that we don't have a dog, the house was super empty feeling and super quiet. (weird) The kids are on spring break, so they stayed an extra couple of days with dad (weird), so on Monday Kerig and I were able to go out for dinner. (weird for a Monday) More empty house when I got home (weird) and Tuesdays I have the house to myself until the kids get home from school, so most of the day wasn't much more quiet than usual (although, not letting the dog out twenty times a day is something I'm still getting used to). I had to meet my study partner at Panera's to take an Abstract Algebra class (not 'weird' but definitely not normal), then I had to run errands. Normal Tuesdays are laundry and Sam's Club, but they didn't happen. It was odd not timing my errands to be home in time for the bus. It was weird not making dinner for the kids, it was weird not taking Ted to his speed and agility workout. It's not that I didn't have plenty of things to keep me busy, they just weren't the usual things that keep me busy. I don't know if I've mentioned it here, but I'm a super routine oriented person, so I'm very thrown off at the moment.
I've mentioned that our current living arrangements are coming to an end. In June the kids will move to Geneva to their Dad's girlfriends house. I have until the end of June to find a place that's big enough for me, Kerig and the kids, feels safe enough for the kids, meets our weird quirks
and
fits our budget. This is proving to be no easy task, and has come to be a major source of stress and anxiety for me. Not only is the finding a new place stressful, but worrying about my kids, not being at all pleased at the new arrangements (this was not the plan that I agreed to back in the day, and I 100% do not think that what's being done is in their best interest) and then...there's the whole knowing how badly I'm going to miss them. These past couple days alone have felt like foreshadowing of the future. I'm not especially a people person, and I'm totally comfortable in my own company. But that doesn't mean that I don't want my children around. I do. It's going to take a lot to get used to...
But it's not all bad. I'm so excited to be able to move forward with Kerig. Through all of this he has been so patient, understanding and supportive. I'm looking forward to a something smaller,
cleaner
and decorated more to my liking. Now, if something would just land in my lap, that would the awesomest.
Anyway, last night I took a nice walk through the neighborhood and I was listening to
The Paperclipping Roundtable
, the show I was listening to was about scrapbooking everyday stuff. This isn't foreign to me, I already believe in it. My kids are 22,19, 14 and 12. Our routines have morphed over the years. And I didn't scrapbook lunch or routines or daily life. I wish I had a page or two that covered the really mundane aspects of life - you think that you'll always remember what a typical day was like, but after so many years and so many changes, the details fade away.
So even though yesterday was a totally weird day, it was a totally weird
everyday
day. It was no one's birthday, I didn't buy a new car, it wasn't the first day or school or the last, it was just a little more quiet with no laundry and fewer groceries. So listening to this podcast, being encouraged to remember to capture the every day, I decided to scrap my day, with the three totally arbitrary and non-people-y shots that I had taken during the day. They're not especially compelling photos - two were just quickie shots to communicate with Maggie (I had to mail her the battery charger that she had left at home and so I took a shot of the 15 people in line ahead of me at the post office) and then while I was out on my walk I kept seeing pinecones - this is also something I wanted to show Maggie, as we had gone "pinecone hunting" in October a couple of years ago and found nothing but old, rotting pinecones - turns out they drop in the spring...doh.
So here's what I ended up with:
If that looks familiar, I totally borrowed a number of elements from the "Molly" layout I just posted. I used the same font for the title (SNF Lollihop), the same concept for the patterned paper at the top, and (as always) the same font for the journalling. Note: I don't know if I've ever mentioned it, but I always use
AvantGarde Bk BT
- I've just found that keeping the font consistent is just another step towards simplifying the scrapbooking process, and to me, simplifying stuff like this makes scrapbooking less frustrating and therefore far more enjoyable.
I like that I used the Panera logo straight from my soda cup:
That four hours was a pretty huge chunk of my day, after all. Plus I felt like it was a stroke of genius to run that through my CuttleBug to make a nice neat circle. And I feel confident that the Tim Holtz Tiny Attacher staples will hold it in place.
Oh! Speaking of holding stuff in place! I happened on stuff a long time ago that I bought and then never used. I finally broke it open a couple of weeks ago and I think I'm in love!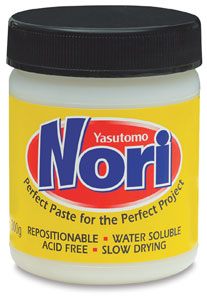 I got it at a local artist's supply store here, but you can get it at
DickBlick.com
, which is both fun to say and reputable and fairly priced. I bought the smaller, less expensive bottle bottle, but if I knew then what I know now I'd happily have sprung for the jar. And here's the deal: I'm not talking about quantity, because frankly I just don't craft enough to need any specialty adhesive in quantity. What I am talking about though, is this stuff is super thick and you only need the tiniest bit. I've been using it under all the Studio Calico wood veneers. It holds like crazy. I was trying to squeeze it out of the bottle directly onto the veneers, but I've since realized that it makes more sense to squeeze it directly only my fingertip, or put some on a scrap of paper, where I can then dip my finger in to grab a little and then "finger paint" it onto the piece that needs it. I think the jar would just be so perfect - take off the lid and just dab your finger in. I may spring for it
just because
- I'm worth it, after all.